Final call: final thoughts, questions and predictions ahead of the 12th-ranked Ohio State home opener against Oregon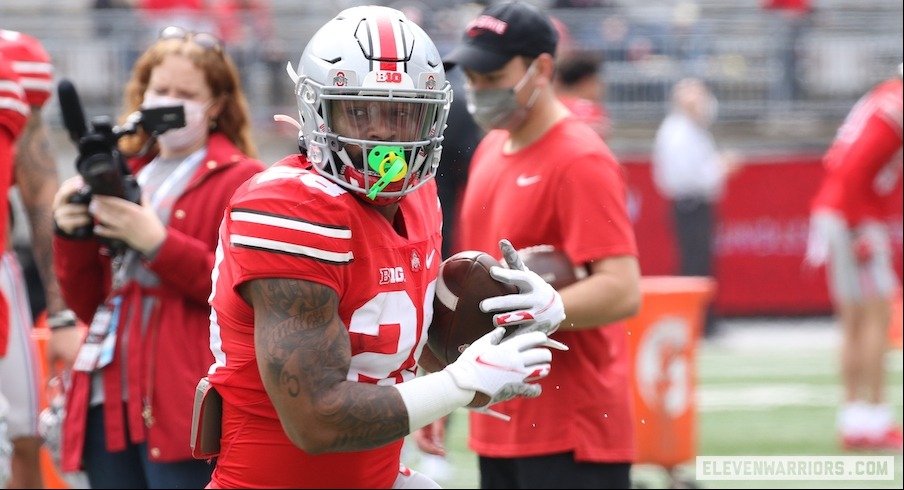 Football and fans return to Ohio Stadium today.
In just a few hours, Ohio State will play its first home game of the 2021 season – and its first game at Ohio Stadium with members of the general public in attendance since 2019 – when it hosts Oregon in a non-conference clash of high level. -12 teams both looking to defend their championships in their respective conferences this season.
Opinions vary on the competitiveness of today's game, but it is without a doubt one of the most anticipated games of the year for the Buckeyes, as they face one of their most powerful opponents. regular season schedule at The Shoe, with a kickoff scheduled for noon and Fox Television.
While waiting for the start of Ohio State's second game of the season, Eleven warriors' Dan Hope, Griffin Strom, Garrick Hodge and Kevin Harrish share their final thoughts, questions and predictions below.
Final thoughts

I am again excited about a real game day environment in footwear

While I felt privileged to be part of the small crowd of people who attended all three Ohio State home games at Ohio Stadium last year, it was still weird watching the Buckeyes. play competitive football with the stands almost empty. The man-made crowd noise and cardboard cutouts couldn't come close to the fan-filled stands that make a shoe game day so special.
We all missed out on The Best Damn Band in the Land last year too, so while I'm often more focused on my work than the scenery around me, I'll be sure to stop for a few minutes to really watch Script Ohio and the Saturday halftime show, which will be pay homage to those who were heroes in the September 11 attacks 20 years ago today.
I promised myself last year that I would enjoy it even more than usual the next time I cover a regular Ohio State football game again. I won't let myself forget that today.
-Dan Hope
Sold out or not sold out, it will be good to have a lot of fans in The Shoe

Earlier in the week, Ohio state officials said they expected more than 90,000 fans to be in attendance for Saturday's game. Whether or not that number hits 100,000 by noon on Saturday, it will be great that OSU coaches and players can experience the best atmosphere at Ohio Stadium for nearly two years. Given the difficulty of the past 18 months, this is a cause that deserves to be celebrated.
– Garrick Hodge
For a game at the start of the season, injuries are important

Injuries can happen at any time during a college football season, so perhaps I should be less surprised at the high volume of high-profile injury issues plaguing both sides leading up to this game. However, just one game in the year, one wouldn't necessarily expect the health of four potential Ohio State starters to be called into question, with two of Oregon's defensive stars in the game. same boat.
The Buckeyes have yet to confirm anything about the health of Harry Miller, Cameron Brown, Sevyn Banks or Josh Proctor, as things have also been kept under wraps from the Ducks about potential future first-round picks Kayvon Thibodeaux and Justin Flowe. . The health of both teams – especially in defense – could be a major factor in this one, but I have a feeling things will cancel each other out enough that there aren't many real complaints from the side. fans on the legitimacy of the victory.
– Griffin Strom
Finally, a great non-conference game in the 'Shoe

Looks like it's been ages since Ohio State played a non-conference first game. To be fair, Oregon was originally on the register last year and TCU was supposed to be a home-and-home (and also, better in football), but that doesn't undermine the fact that the Buckeyes haven't played a non-conference opponent with a pulse since Baker Mayfield planted a flag in the artificial turf at the Ohio stadium, which appears to be there forever.
Personally, I live for the big non-conference games, so I'm even more excited for this one than for a Top 10 Big Ten game. There is just another kind of energy when it comes to a great program outside of the conference.
-Kevin Harrish
Questions

Will Ohio State Commit to Miyan Williams and TreVeyon Henderson?

Many Ohio State fans already thought Williams and Henderson were the running backs who should get most races for the Buckeyes this season, and they certainly looked like the Buckeyes' most dynamic runners in Minnesota. Still, Williams got just nine offensive touches and Henderson got just three offensive touches against the Gophers as the Buckeyes also dragged Master Teague and Marcus Crowley into the rotation.
Teague is a veteran who already has a lot of experience and deserves a role, and Crowley has also worked hard to earn a role this season after tearing up his ACL as a true freshman. In a big game like today, however, the Buckeyes have to have their best running backs on the field more often than not, and I believe Williams and Henderson are those running backs.
I'd be surprised if Teague were left out of the rotation altogether, and he could still be the full back Tony Alford trusts the most with the game on the line given his experience. But I won't be surprised if Williams and Henderson end up being the most playing running backs against the Ducks.
-Dan Hope
Oregon really isn't overrated, is it?

Beating Fresno State by a touchdown at home doesn't exactly call me a better team in the country, regardless of Kayvon Thibodeaux's injury status. The Ducks are going to pick up two important pieces in their high school, which they'll need to take on OSU's vaunted wide receiver body. Bettors have so little respect for the Ducks on the road that they are 14 point dogs. We'll see how many adjustments they made from week 1 to week 2.
– Garrick Hodge
Will CJ Stroud have the same level of protection?

In the aftermath of the season opener, the Ohio State offensive line got its flowers – and rightly so – for not allowing a single sack on Buckeye's quarterback for the first time in the season. 2018. However, Gopher's defensive front was one of the Big Ten's worst in 2020 when it came to putting pressure on the quarterback and stopping the run. Thibodeaux's presence – healthy or not – could go a long way to test Greg Studrawa's retooled unit this weekend, but if Nicholas Petit-Frere and Dawand Jones can pull off a similar performance keeping Stroud clean in his pocket, they will deserve it. much more credit in the future.
– Griffin Strom
What will the defense look like?

Ryan Day made it clear last week that what we saw against Minnesota – for better or worse – probably wasn't very indicative of what we'll see against just about every team remaining on the schedule, because Minnesota has a very unique type of power offensive with personnel, packages, training and games Ohio State just isn't going to see in the future.
That means today we're starting to get our thoughts on this Buckeye defense, and I'm fascinated to see what that actually looks like, especially if Sevyn Banks and Cameron Brown are able to play.
-Kevin Harrish
Predictions

Ohio State will once again have at least one first-time starter in defense this week

After breaking through seven starters for the first time in defense against Minnesota, I think we'll see one or two more defensemen start their first games as the Buckeyes against Oregon. Bryson Shaw is a candidate to make his first free safety start if Josh Proctor is limited or absent due to the injury he sustained last week, while Lejond Cavazos could be a dark horse to start at the cornerback if Sevyn Banks or Cameron Brown can not go. Palaie Gaoteote could also be in the mix to start linebacker now that he's eligible, although that's likely a long shot given he just became eligible on Friday.
The defenseman I'm actually going to predict will make his first start against Oregon, however, is Cody Simon, who I think gets his first start at linebacker Mike alongside Teradja Mitchell. While Tommy Eichenberg started against Minnesota, Simon may be in line for more shots against Oregon, as Eichenberg was a good candidate to face the massive, heavy Minnesota offense, but Simon has more athleticism. to compete with the Ducks' spread attack.
-Dan Hope
Ohio State controls the tempo and pushes into home opener

In a way, that's an almost underwhelming prediction as it was a great game on paper before the Buckeyes played three straight games that should be snoozefest. Call it a Week 1 overreaction, call it Scarlet and Gray Kool-Aid, but I just can't see this Oregon defense shutting down Ohio State, and the Ducks won't control the clock as effectively than Minnesota to compete with this competitive one for more than half.
– Garrick Hodge
Miyan Williams becomes the clear starter at RB

It might not be overwhelming for anyone who has watched the Buckeyes' season opener, but I expect rookie Miyan Williams in a red shirt to end Saturday's game with a stranglehold on the competition. of the Ohio State running backs. Ryan Day alluded this week to the need for the Buckeyes to tighten rotations across multiple areas of the depth map, with the flashback being near the top of the list.
Nine carries were enough for Williams to rack up 125 yards and one touchdown against Minnesota, and most of the possessions he's been sidelined in left spectators scratching their heads. The outcry will only intensify if the Buckeye racing game continues to see ho-hum results from fourth-year veteran Master Teague, and at least after Week 1, Williams seems too talented to leave the field.
– Griffin Strom
Ohio State finishes with at least five sacks

Buckeye's defensive line didn't really have much success after quarterback last week (apart from Zach Harrison's groundbreaking strip-sack, which is a pretty massive exception), but I think it was. was more a product of what Minnesota was doing offensively than it wasn't the Ohio State pass rush that was missing.
I think we see Larry Johnson's unit making a statement in this game and claiming his status as one of the most formidable passing rushes in the country.
-Kevin Harrish