Ground Zero Dragon Boat Festival Celebrates 10 Years of Fundraising | Visit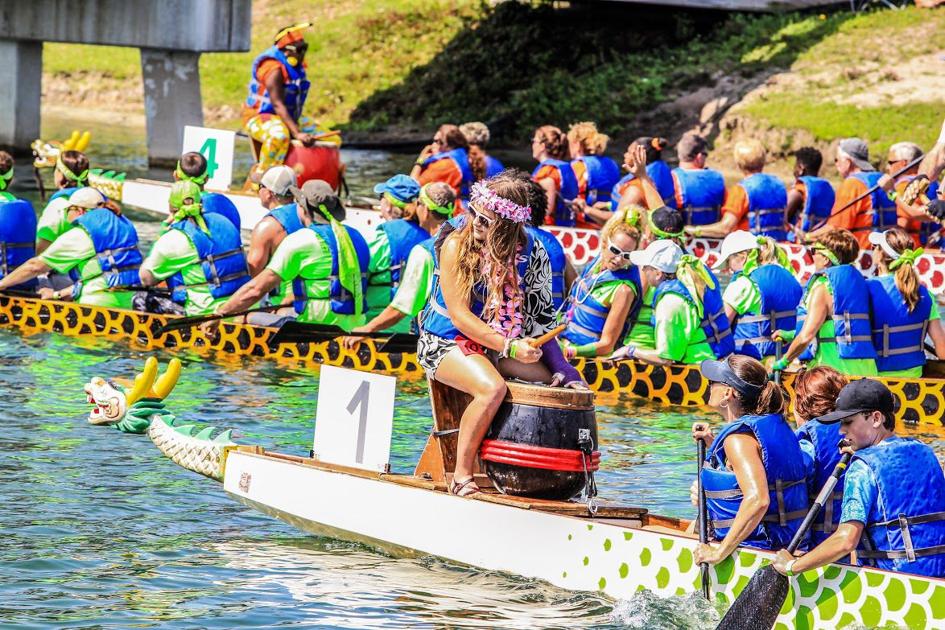 When Beth Massey talks about how fun the Ground Zero Dragon Boat Race is, she is quick to mention how important her goal is as well.
"I really believe in what Ground Zero is doing for at-risk youth in Myrtle Beach," she said. "I believe they save lives by winning hearts for Christ, and our children really need what they provide."
What the local ministry does, said its president and founder Scott Payseur, "spawns an uprising of adolescents coming to Christ, living for him and impacting their world."
For the 10th year, the Ground Zero Dragon Boat Festival is part of that effort.
Scheduled for Saturday, April 28, 9 am to 4 pm at Grand Park at Market Common, around 7,000 spectators are expected to cheer on the 50 to 60 teams scheduled of 21 people each.
The 200-meter run is a major fundraiser for Ground Zero, a 501 (c) (3) nonprofit.
"We are not a church, but we work with churches and organize different events, bringing in speakers and national groups," Payseur said.
Each racing team has 20 paddlers, a professional coxswain and a batsman.
The teams are guaranteed two races, and the teams with the first four times in each division go to a final race.
In addition to the actual boat race, the atmosphere is full of fun festival activities, including a family fun zone and food vendors.
There is also musical entertainment throughout the day and a drummer costume competition judged by local celebrities.
For more information on the Dragon Boat Race or Ground Zero, visit https://www.mygroundzero.com/about.
Payseur said the dragon boat race started ten years ago because the ministry was looking for something a little different to generate funds.
Each team member raises $ 150, with plenty of ministry fundraising tips to make things easier.
"This year, once all has been said and done and the festival bills have been paid, we can see $ 100,000 to $ 125,000 raised," he said.
This money is spent to have the ministry bring in special guest speakers, provide them with food, and generally keep Ground Zero running.
"Some of the kids are coming because it's the only food they will have that night," he said.
Participants do not need to be seasoned paddlers, or even have been on the water before. They do a workout and a trainer reviews the signals and terms.
"It's not really competitive. It's something fun to do, and we provide the boats, the professional coxswain, the paddles and the life jackets, "said Payseur.
"Most of us have never ridden a real dragon boat before," said Massey, co-captain of the Finish Strong Training and Boot Camp team, adding that it was nothing like rowing in a canoe. ordinary.
One of the funniest parts of running is the teamwork, she said.
" It's a team sport. Everyone has to row together in rhythm and in sync or else you won't get anywhere.
Chrissy Smith, who is on the Massey team for the second year, recognized that teamwork is a big part of the fun.
"It's a fun team building activity for us," she said, adding that it was also a great way for the community to support Ground Zero. "It is important that our local teens have a safe haven from what is going on and what teens are exposed to in today's world. "