HCS students arrive for the first day of the hybrid schedule | Covid-19 coverage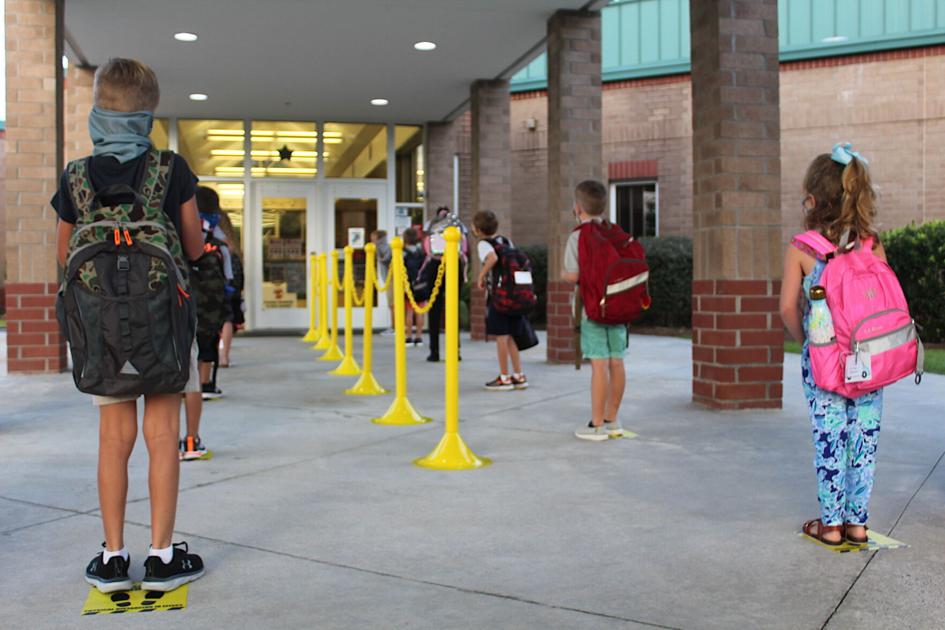 The teachers gave lots of hugs and aerial greetings this morning at Conway Elementary School as the children in Group A of the hybrid schedule returned for their first day of school in almost six months.
"It's been too long since we've seen their faces," said fifth-grade teacher Elizabeth Fitzgerald.
Students in Horry County schools started school Tuesday on a hybrid schedule, which is decided by the Department of Health and Environmental Control's disease activity report. Students are split into Groups A and B, participating in two days in person and three days of distance education at home.
The last time students set foot in the classroom was on March 13, due to closures for the COVID-19 pandemic.
Fitzgerald said she was excited for the day and had 10 kids in her class on Tuesday, and for Group B tomorrow she will have eight.
"We have wiped it down and we welcome them," Fitzgerald said. "I'm used to hugging them all. It will be difficult, but we will get there.
CES director Maquitta Davis said she was ready to hand everyone over to learning.
"We want it to be a magical time for our kids," Davis said.
Davis said she was delighted to welcome everyone back to school.
"When you haven't seen them in a while, you can't wait to welcome them back into the family," Davis said.
Students enthusiastically jumped out of the cars donning their masks, while teachers and administration waved and danced to "Walking On Sunshine" and "We Are Family" played through the speakers.
All hands were on the deck helping the kids line up at the front door and get to where they needed to be safe, and the students were happy to follow protocol, wearing their masks and holding each other stand on the yellow circles placed at the sidewalk entrance to help with social distancing.
Shanika Johnson said she was a bit skeptical, saying she didn't want her child to be surrounded by too many people, but that her fifth-grader was excited.
Lagreta Spain Nursery School came to CES for LEAP (Learn, Assess, Analyze and Prepare) days last week and said it went very well, saying the students had plenty of time to take their social distances and to take a break from wearing their masks.
"I think it's going to be good," Spain said.
Monday's DHEC report showed that the HCS is still firmly in the medium-spread category, meaning schools will continue on the hybrid schedule until next week.
If the report says the spread can be classified as low, students can go the following week in a five-day format in person. If the number of cases in the area or the percentage of positive tests increases and is considered high, students will spend the next five days of the following week in distance education.
The report that will be released on Monday September 14 will decide how the school will be attended the week of September 21.
The latest DHEC disease activity report can be viewed here.