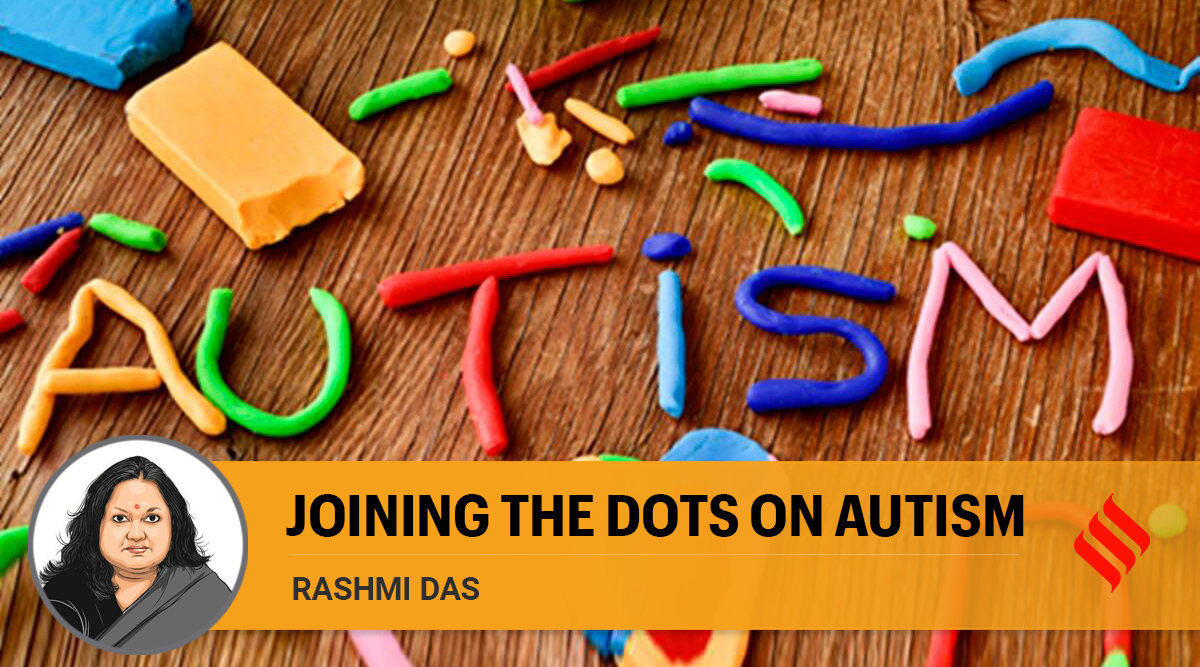 "April is the cruellest month," TS Eliot wrote in The Waste Land. Families with autistic children are used to cruelty and at this time of year a mirror should be held up to society. April is Autism Awareness Month and April 2 is Autism Awareness Day – both mandated by the United Nations.
The diagnosis of autism usually comes with a label of being "abnormal". Clinically, it comes with a long negative list of what a child cannot do and predictions of despair. For a parent, it is a devastating experience.
Autism is not a "disease" that can be cured. It is a condition that arises from certain neurobiological factors. It is characterized by a permanent set of developmental disorders in the areas of communication and social reactivity and is accompanied by a set of restrictive and repetitive behaviors. If you are autistic today, you will be autistic tomorrow and the day after tomorrow.
Families with autistic children in India face a void. After the diagnosis, mothers receive a lot of wisdom from charlatans – circle this or that street intersection, go around the trees, make your child drink the water touched by a crow and your child will start talking, wear amulets and make them so that your child also wears one. At the other end are the reflections of the educated: Einstein was autistic, he had a language delay, as did Mozart, and a long list of celebrities is produced. Awareness is low, stigma is high.
The official accounting of people with autism is extremely low. A 2021 Government of India Statistical Profile of Persons with Disabilities (PwD) does not consider autism as it is based on 2011 census data. Autism was recognized as a disability in 2016 under the Rights of Persons with Disabilities Act (RPwD), 2016. We have a serious data gap in this area and as a result it is difficult to get policy attention.
The Department of Disability Empowerment manages the Unique Disability Identification (UDID) project, including issuing cards and creating a national database. The latest data is not available in the public domain. As of September 13, 2019, the statistic for all of India reveals a total of 10,338 people with autism. Delhi reported zero, as did many other states. The reality on the ground contradicts this. Learning centers, speech therapy and occupational therapy (OT) clinics are common in Delhi localities. The status is similar in many cities.
The core of learning for children with autism in most schools, private and NGO-run, which is implemented through Individual Education Plans (IEPs) consists of the following: joining dots , tracing letters, putting objects from one container to another, cutting, chopping and peeling vegetables, packing, threading paper bags, etc. All teaching is permanently in Early Intervention Program (EIP) mode. There is no curriculum, no progression plan, and no transition roadmaps for their integration into adolescence and adulthood. Families are on their own. And they are desperate.
It is a crushing setback for a mother to know that her child will not learn like other children. While other mothers may hang out at night in parks while their children play, the autistic mother would rush or return with her child from a therapy clinic. Outsiders can't even imagine what rock and hard place the autistic mother is locked in. A mother of an autistic child knows what name calling, discrimination and ostracism look like. The physical and mental toll of raising an autistic child is demanding. It's like being postpartum for years.
Research suggests that sleep disturbances – fragmented and erratic sleep, frequent and prolonged nocturnal awakenings – affect more than 80% of children with autism. This deficit is transmitted to the mother on a daily basis. His life oscillates between nocturnal vigils and therapeutic rounds during the day. Poor sleep hygiene impacts children's physical and cognitive functions. It can exacerbate problematic behaviors leading to a litany of complaints from the school or even worse, the child's exclusion.
Supervisory load is high. Autistic children tend to wander off. Pediatric literature based on parent surveys puts this figure at around 50%. Many mothers who are professionals drop out. Those who remain must endure judgmental comments about their mothering and care.
Autism is no longer a marginal concern. In the United States, the Center for Disease Control and Prevention keeps a close eye on prevalence data by conducting multisite studies in all states. There is a vibrant Interagency Autism Coordinating Committee (IACC) under the United States Department of Health and Human Services. In the UK, the Department for Education (DoE) reports on pupils with autism in schools and honestly publishes data on exclusion. The Autism Strategy (2022-2026), the most ambitious plan to date in this country, has made significant investments to reduce diagnostic wait times, improve public understanding of autism and spending on training.
Health, education and awareness campaigns are the three areas the government should focus on. The first task is to intensify screening for autism. Unlike Down syndrome, which is screened before birth by triple testing and amniocentesis, there are no biomarkers to detect autism risk. As science advances, similar methods of maternal testing may be possible and may even lead to the prevention of the birth of autistic children. This is an ethically charged debate as it raises the specter of eugenics and the loss of particular genes from the human gene pool. However, this is a futuristic debate. The scientific practices as they currently exist are standardized tests – Childhood Autism Rating Scale – of behaviors and developmental milestones.
In India, routine pediatric health checkups mainly focus on anthropometric parameters, recovery from seasonal symptoms, and immunization schedule. Developmental milestone mapping is an area of ​​gaps. This leads to a delay in the diagnosis of autism. To address this, in 2019, the All India Institute of Medical Sciences (AIIMS) launched an app – PedNeuroAiimsDiagnostics. The application, available for free on Google Play and App Store. makes certain standardized parameters available to all paediatricians. It has two sections. Section A has 28 questions to assess social interaction or communication skills and restricted and repetitive behaviors. Section B has nine questions for the analysis of the questions in Section A. The formal diagnosis must be made by either a pediatric neurologist or a child psychiatrist. But mothers can use the app's know-how as an early warning system. Despite being very robust, the app hasn't seen much success. The Department of Health and Family Welfare should promote its adoption as a G2C measure in our country's child health systems.
Second, the big tent approach to special education does not work. What works for a dyslexic or Down syndrome child will not work for an autistic child. There is no autism. There are many autisms. Lorna Wing, the leading figure in autism research, called it a "spectrum of conditions," ranging from severely affected to high performers. After changes in the global diagnostic criteria brought by the DSM-V (Diagnostic and Statistical Manual of Mental Disorders), Asperger's syndrome, a condition without learning disabilities but with similarities to autism, has also been included as an autism subgroup. Therefore, program frameworks tailored to the autism spectrum are the need of the hour.
The flexible curriculum and the use of scribes, authorized by the CBSE to comply with the provisions of the RPwD Act 2016, faced a dissemination challenge – which the CBSE itself acknowledged while notifying the progressive exemptions for secondary and upper secondary examinations. How many took advantage of the facilities? There is no government data, but based on parenting stories from different cities, it can be said with certainty that the flexi-CBSE program and the NIOS (National Institute of Open Schooling) program are only accessible to a microscopic minority among autistic learners.
The National Education Policy (NEP) 2020 states that "by 2025, at least 50% of learners in the school and higher system will be exposed to vocational education, for which a clear plan of action with objectives and deadlines will be worked out". This principle should be applied for autism education, since people with autism have special systemizing abilities, focused interests and aptitude for work tasks. But before that, teacher training is a crucial step. RCI (Rehabilitation Council of India), NCERT (National Council of Educational Research and Training) and NIOS should collaborate in creating learning materials and teacher training programs. Schools and learning centers can build their IEP layers on this foundation.
Third, autism awareness campaigns must popularize legal rights and government benefit schemes, which include free education and financial support for baseline disabilities. This is a great help for poor families who have few resources. The National Institute for the Empowerment of Persons with Multiple Disabilities (NIEPMED) of the Ministry of Social Justice and Empowerment disseminates this information, but its awareness needs to be strengthened. The service for issuing UDID cards must be liberalized and decentralized. Currently, few government hospitals are licensed to do this work, which increases wait times. The process is also cumbersome. Ease of access is required. RCI approved establishments and private hospitals can be added to this list.
Autism is becoming a major pediatric concern. Our systems must be ready for this.
This column first appeared in the print edition of April 2, 2022 under the title "Joining the dots on autism". The author is editor, TelecomLive & Infralive