Seed Effect microfinance charity helps refugees grow up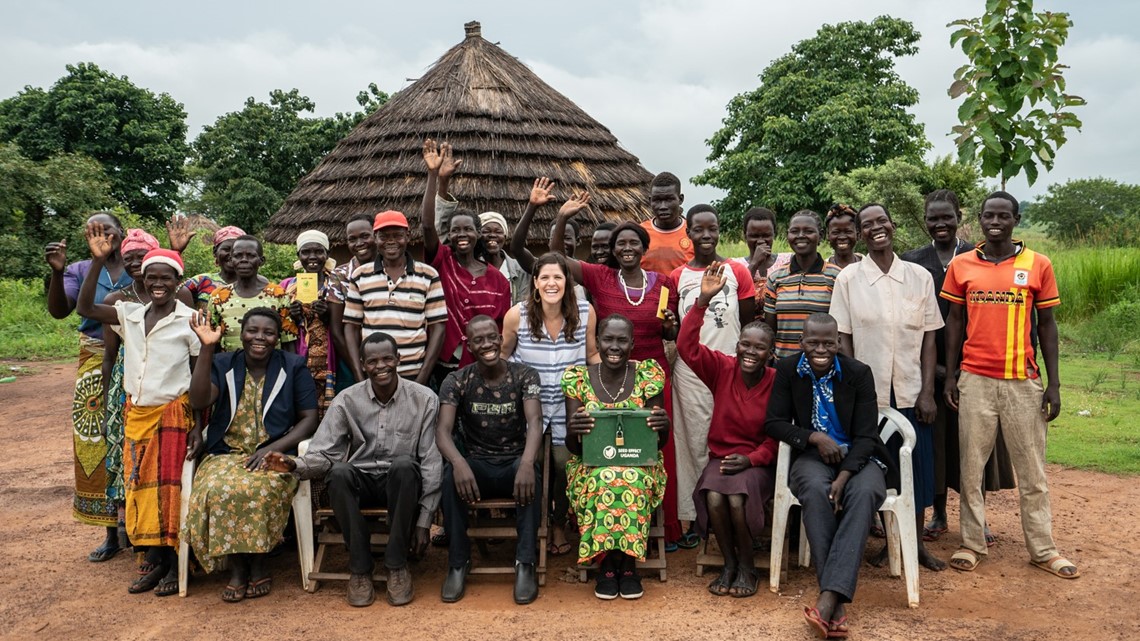 A passion for helping people led a couple from North Texas on a 15-year quest to guide refugees in creating a way to change the course of their lives.
DALLAS – When Missy and David Williams traveled to South Sudan on a religious mission trip in 2007, they had no idea where it would take them.
"We didn't even know where South Sudan was," said David Williams, then 32. "I honestly thought it was in the Middle East."
But, a passion for helping people led the couple on a 15-year quest to guide refugees in creating a way to change the course of their lives.
South Sudan, they would learn, had been rocked by civil war. Millions of people were fleeing south into Uganda to escape the violence. Although religious missions, like the one they were in, would provide spiritual comfort in refugee camps, basic issues of daily life were not resolved, they said.
"People said to us, 'My child has malaria and I can't afford the medicine,' remembers Missy, then 27.
"I don't know how I'm going to take care of my family," she said. "It was overwhelming."
On their last night in the country, a meeting with a group of women gave an eye-opener.
"We were standing in a circle in a mud hut, and with the help of a translator, they asked for a sewing machine," recalls Missy. "" If we can have a sewing machine, we can help start a business for families to put one of the children in school. "
So began a tedious journey to forge a Missy and David charity named Seed Effect, starting first in South Sudan and ending in northern Uganda, directly south of South Sudan, where the refugees came from.
The concept behind Seed Effect is microfinance. Fifteen to 25 people in a village will meet. Each will contribute a small amount of money to establish a loan pool and an "insurance fund". By following the rules set by Seed Effect, under the supervision of a trainer, they will be able to queue up to borrow small amounts of money from the pool, paying interest – usually around 10% – while repaying the loan. The money in the pool grows from interest.
Group members use the loans to start businesses, buy livestock, or enroll their children in school. The insurance fund is intended for group members in a financial emergency, such as a health crisis. So far, the members of Seed Effect have collectively saved over $ 4.8 million.
Along with the loan program, members are enrolled in a Bible study group, which Missy said many find just as valuable as microfinance.
"It gives them a chance to share their traumatic experiences as refugees," she explained. "They can find common ground in what they've been through.
According to the World Bank, 1.7 billion people worldwide have no affiliation with a financial institution. It is more than the population of China. In the parlance of the World Bank, this is called the "financial exclusion gap". Uganda, also according to the World Bank, has thousands of village savings and loans similar to Seed Effect that fill this gap. The advantage for banks? The method does not require collateral to borrow money, and it charges around one-third of the interest.
From start to finish, each savings group at Seed Effect lasts from nine months to a year. Members report that their nutrition is improving, their livestock is increasing, and many are acquiring electricity in their homes. Almost all re-enroll for another cycle after their first cycle is over.
"It's very, very good because they remain responsible for each other," said Pastor Moses Akitwine. "They support each other, and then they return that money. So you don't need any collateral to put there."
Akitwine's Church, Heavenly Bridges Ministry, has feet in North Texas and Southwestern Uganda. Her father founded a church in Uganda 60 years ago. Now its scope includes a seminar, orphan care, trades school, water well drilling and, of course, microcredits. Akitwine returns from Hurst to his home country four times a year to help run the ministry.
One of his favorite stories involves a woman named Rachel and two pigs. She got a 200 hundred dollar microcredit and bought two pigs two years ago.
"When I returned to Mbararra (southwestern Uganda) the last time, she had forty pigs. Forty pigs! "Akitwine exclaimed." I didn't know these pigs, they give (birth) twice a year. And they have six piglets.
Now Rachel, a single mom, plans to use her pig's money to open a convenience store, an emotional experience for her and the people who saw it happen.
At Seed Effect, which now employs 200 Ugandans in the country, the payoff has been as deep for Missy and David Williams as it has been for the refugees.
"The number of times I've been able to sit across from a refugee, and they share their story, which feels like stepping into a very holy space, honestly a very sacred space … question of zip code, you know, you were born there and I was born there, maybe that's my story.