'The Nights of a Thousand Candles' light up Brookgreen Gardens | Visit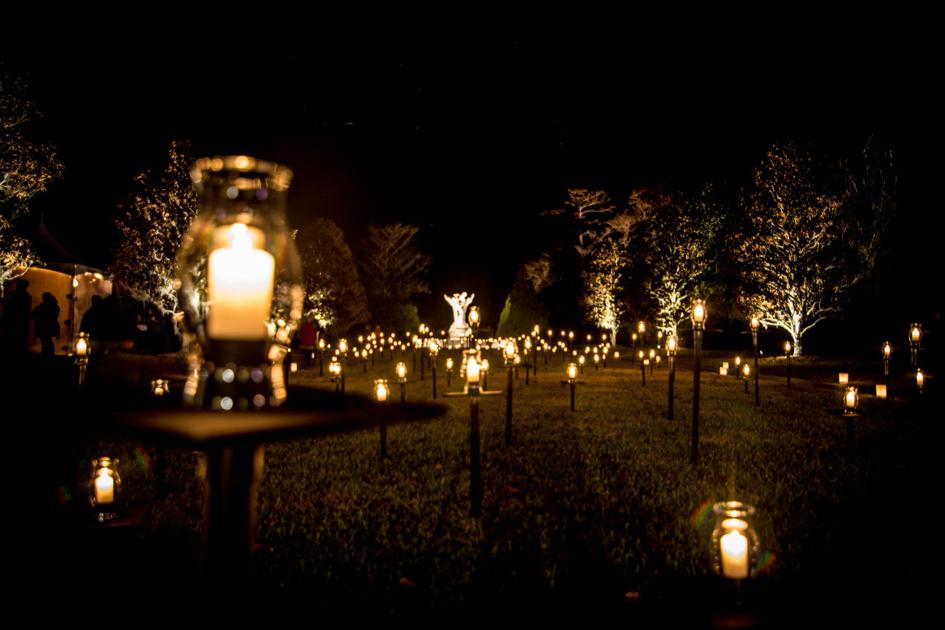 It takes over five miles of extension cords to create Brookgreen Gardens' Nights of a Thousand Candles, and gasps are heard as guests see the stunning result.
What started as a two-night event, called the Luminaria Festival, in 1999 with around 5,000 visitors, has grown into a spectacular 10-night production seen by around 54,000 guests.
This year's event will take place from November 30 to December 2, December 7 to 9 and December 14 to 17, with the gardens open from 3 p.m. to 10 p.m. on these days.
As has been the case for several years, admission is only with advance tickets, and they are available online at www.brookgreen.org or by calling 1-888-718-4253.
As the crowd coming to the event has increased, the traffic jams have also increased. In order to manage traffic and ensure customers what Marketing and Communications Manager Lauren Joseph has described as "the best possible experience," advance tickets are required.
Depending on availability, tickets can be exchanged for another date if necessary.
Tickets for adult members are $ 15 and tickets for child members ages 4 to 12 are $ 10.
General public tickets for adults are $ 20 and tickets for children are $ 12. Children under 3 are free.
Adult tickets purchased before the end of the day on November 15 will receive a $ 2 discount on each ticket.
Brookgreen Gardens is located at 1931 Brookgreen Drive, Murrells Inlet. The phone number is 843-235-6000.
One of the favorites for visitors to the Brookgreen Gardens event is the 85-foot-tall tree decorated with 130,000 lights. A different local dignitary, including Miss South Carolina Suzi Roberts, will ceremoniously light the tree each evening at 5:45 p.m.
"You can actually hear gasps from people when this happens," Joseph said.
There are nearly 9,000 hand-lit candles and light fixtures at the event, and it takes 40 staff and volunteers to light them.
More trees have been added this year, and with those additions there will be over a million little white lights that will shine.
Also new this year was what Joseph described as a very neat, lighted wine bottle display rack created by head craftsman Jon McGann.
In addition, Coastal Carolina University's Department of Visual Arts will be hosting a children's exhibit in Anne's Garden.
The zoo will be closed during the "Nights of a Thousand Candles".
It is suggested that customers wear comfortable walking shoes. A limited number of strollers will be available free of charge on a first come, first served basis.
Tripods are not allowed, but guests are welcome to take photos.
Dinner, prepared by Inlet Affairs, will be served in cafeteria form from 3:30 p.m. to 9 p.m. in the large heated tent with indoor seating.
The menu will include a variety of lowcountry foods such as seafood, barbecue, chicken bogs, and vegetarian options. Food is charged in addition to general admission, and reservations are not accepted.
Meals range from $ 9 to $ 18, and choices for kids such as chicken fillets, fries, or a side salad range from $ 3 to $ 5.
Drinks and snacks will be available for purchase in The Old Kitchen in the Sculpture Gardens.
On November 30 and December 1 and 2, at 4 p.m., 6 p.m. and 8 p.m., Roger Day will perform Christmas music in the Hammock Shops Village tent near Pegasus, and Prettier than Matt will perform at 5, 7 and 9 p.m.
At the same time, under the Tidelands Health entertainment tent in the arboretum, the Paul Grimshaw Band and the Vocal Edition will perform.
From December 7 to 9, in the tent near Pegasus, the Long Bay Youth Symphony will perform vacation ensembles at 4:00 p.m. and 8:00 p.m. with the Mike Frost Band bringing jazz at 5:00 p.m. and 9:00 p.m.
In the arboretum tent, TruSol will play R&B at 5, 7 and 9 p.m. with Ron and Natalie Daise performing Christmas songs by Gullah at 6 and 8 p.m.
From December 14th to 16th, in the Pegasus tent, the Thistledown Tinkers will perform at 5pm, 7pm and 9pm with Bill Oberst at 6pm and 8pm.
The Paul Grimshaw Band will perform under the arboretum marquee at 4 p.m., 6 p.m. and 8 p.m. and Vocal Edition will perform at 5 p.m., 7 p.m. and 9 p.m.
And on December 17th, in the tent near Pegasus, Thistledown Tinkers will be playing Celtic Christmas music at 5 p.m., 7 p.m. and 9 p.m., and Bill Oberst will be performing at 6 p.m. and 8 p.m.
In the arboretum tent, the Paul Grimshaw Band will perform at 5pm, 7pm and 9pm, and Ron & Natalie Daise will perform at 6pm and 8pm
Each evening, Peggy and Mark Gaudreau will roam the gardens between performances, playing the bagpipes.
"We'll have the train exhibit, the plants and the beautiful poinsettias that we have bred in our greenhouse, and a lot of new things, and it will be wonderful, beautiful nights," Joseph said.
"You never know what you'll see. You turn a corner, and your breath will be taken away.